NIMP-Romania and EU project ''Mapping of excellence''

Romanian nanoscience and technology in the EU project
''Mapping of excellence in research and development''
Lisbon European Council on 23-24 March 2000 requested to map research and development excellence in Europe, in order to foster the dissemination of excellence.Based on this demand , the EC has financed the project "Mapping of excellence in research and development''
The main goal of the project ''Mapping of excellence'' is to identify excellent competencies in the aim to allow visibility raising across borders, by disseminating the mapping results widely through public web sites (e.g. Europa, Cordis), through EU and national innovation support agencies,etc.A wide range of users would be targeted: industry (with special attention for SMEs) and investors, policy makers, RTD managers, public services,etc.The ultimate effects could show as intensified networking, increased intra-European mobility and knowledge transfer, and greater attractiveness of Europe against USA or Japan.
Concretely, the result of the mapping exercise should be the identification of an adequate number of ''entities'', in each of the selected S&T fields: ''Life Sciences'', ''Nanoscience and technology'' and ''Economics''. The exercise achieves full value by identifying organized groups of researchers , such as institutes, companies, departments, networks,etc.For the specific field of Nanoscience and technology , the following four areas were included:
Area 1- Nanotechnology for interacting, sensing , actuating and microsystems
Area 2- Nanotechnology for biotechnology
Area 3- Nanotechnology for information processing, storage and transmission
Aria 4- Nanotechnology for materials and surface science
It must be mentioned that this is only the first step of a new process which will continue with other "mapping of excellence operations " in other various fields.
This is an EC-financed pilot project testing the quality and utility of a bibliometric-mapping tool to identify and locate centres of excellence in science fields.The main task is to develop a tool for mapping the research landscape across the European Union and Associated States in the highlighted fields.The contractors of this project are The Centre for Science and Technology Studies (CWTS), Leiden University, Holland, and The Fraunhofer Institut fuer Systemtechnik und Innovationsforschung (FhG-ISI), Karlsruhe, Germany.
The identification of centres within the maps is accomplished on the basis of bibliometric data which allows a ranking at the national level but also comparisons in European context.The indicators that can be used for ranking are:
-Number of publications in a particular period of time (P)
-Number of received citations (self-citations excluded) (CX)
-Average impact (number of citations per publication) (CPP)
-Number of contributions of the entity to the top 10% of most highly cited publications (P10).
The fourth indicator is measured on each level of aggregation (world, EU and AC or national) and normalized to different types of publications (articles, letters, notes and reviews).
A very important indicator is related to the relative impact of the published papers as compared to the mean number of citations in the field. This indicator, called ''Crown Indicator'', CPP/FCSm is probably a better measurement of the relative impact and is calculated as the number of citations per publication (CPP), divided by the mean number of citations per publication in the field to which the publication belongs (FCSm).
The first results of the project described above were published recently on the CORDIS site www.cordis.lu following the link ''Mapping of excellence/Nanotechnology''.
A short analysis of these results, focused on the position of the National Institute for Materials Physics (NIMP), Bucharest, in the context of national and European research in the fields of nanoscience and Nanotechnology, is given below. In Table 1, the main Romanian actors of the field were listed according to the publication number(P) in the period 1996-2001 . NIMP has the second place before some important institutes and universities.
TABLE 1-NUMBER OF PUBLICATIONS (P)
<![if !vml]>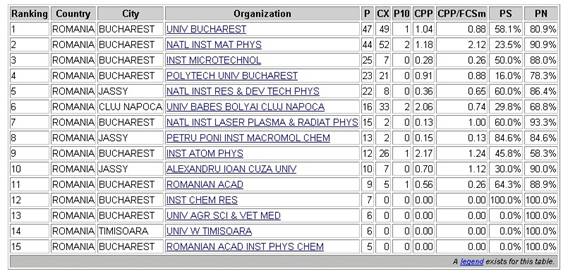 <![endif]>
In the top of the list based on the citation number (CX) (Table 2) one finds NIMP, followed by two universities and one prestigious physics institute, Institute of Atomic Physics. In fact, Institute of Atomic Physics represents a consortium of 4 research institutes which includes NIMP as well. Consequently, the real rating of NIMP is even higher than presented in this analysis.
TABLE 2-THE NUMBER OF CITATIONS (CX)
<![if !vml]>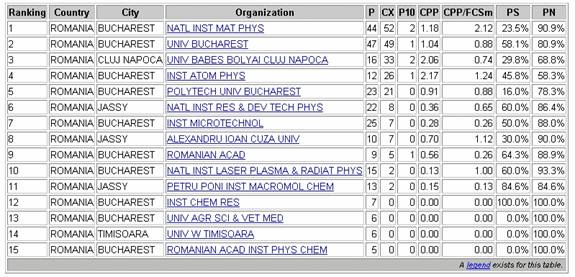 <![endif]>
In the top of the most cited publications (P10)(Table 3) , the first two places are occupied by NIMP and Babes-Bolyai University Cluj.
TABLE 3-THE TOP 10 PERCENT OF MOST CITED PUBLICATIONS IN THE FIELD
<![if !vml]>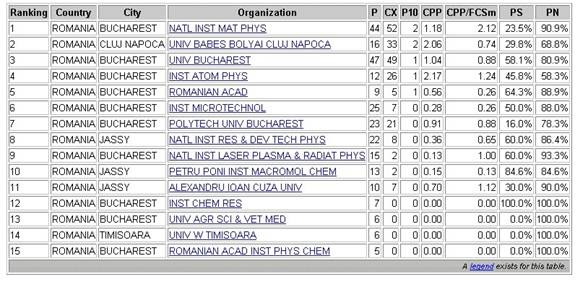 <![endif]>
In the case of the number of citations per publication (CPP), a factor over unity (common in the European research area) is obtained only by Institute of Atomic Physics, Babes-Bolyai University Cluj, NIMP and Bucharest University (Table 4).
TABLE 4-NUMBER OF CITATIONS PER PUBLICATION (CPP)
<![if !vml]>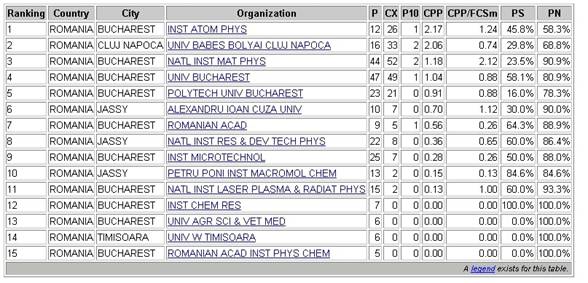 <![endif]>
The classification ,according to so-called "Crown Indicator", is the following:
1.Natl. Inst. Mat. Phys. , Bucharest, Romania- 2.12
2.Inst. Atom Phys., Bucharest, Romania- 1.24
3.Alexandru Ioan Cuza Univ, Jassy, Romania- 1.12
4.Natl. Inst. Laser, Plasma &Radiat Phys, Bucharest, Romania- 1.00
5.Univ. Bucharest, Romania- 0.88
6.Polytech Univ Bucharest, Romania- 0.88
7.Univ. Babes Bolyai Cluj Napoca, Cluj Napoca, Romania- 0.74
8.Natl. Inst Res &Dev Tech Phys, Jassy, Romania- 0.65
9.Romanian Acad, Bucharest, Romania- 0.26
10.Inst Microtechnol, Bucharest, Romania- 0.26
In fact, these ten actors are the only players for this top and emerging research field.It must be noted that the mean European index is equal to the unity or slightly higher. Higher values, typical for the excellence benchmarking, have been obtained according to this analysis only by NIMP-Bucharest, Institute of Atomic Physics, Al. I. Cuza Univ.-Jassy and NILPR-Bucharest.
NIMP in the European context
It is evident in this pilot study that an excellent entity should have higher values of CPP and CPP/FCSm indices. NIMP is the only research unit from Romania with over unity values for both indicators.
A comparison with other countries from Central Europe (Czech Republic, Hungary, Poland, Slovakia and Slovenia), recent new EU members, shows that NIMP could be placed on top positions in the corresponding national classifications.
In the Italian list , based on bibliometric indicators, NIMP is compatible with the fifth position ,after some prestigious universities (Florence, Roma 2 and Bologna) whereas Spain has only three research units having higher indices.
From the point of view of basic indicators (P, CPP and CPP/FCSm), NIMP is placed in a honorable median position, in the case of the most advanced countries in this specific research field, such as: Germany, Holland or France.
Last update: 10.06.2004